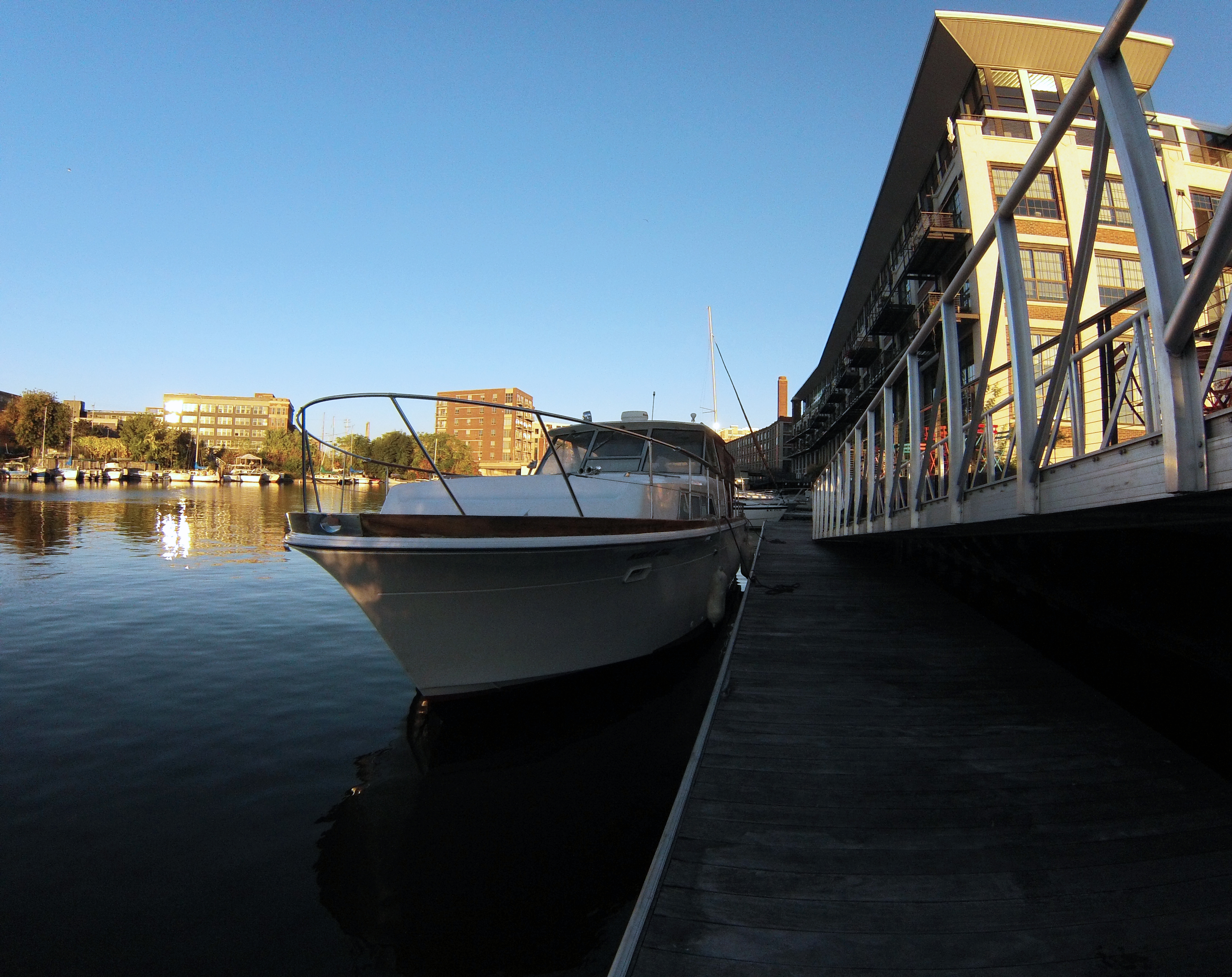 Sarah Jane
 Sara Jane is a 35ft Owns Concorde. She was built in 1971, but don't let her age fool you. She has been re-powered with twin 454 Mercruiser engines and has a top speed of 35Mph. She is one of the fastest
and most luxurious
scuba diving charter boats in the Milwaukee area.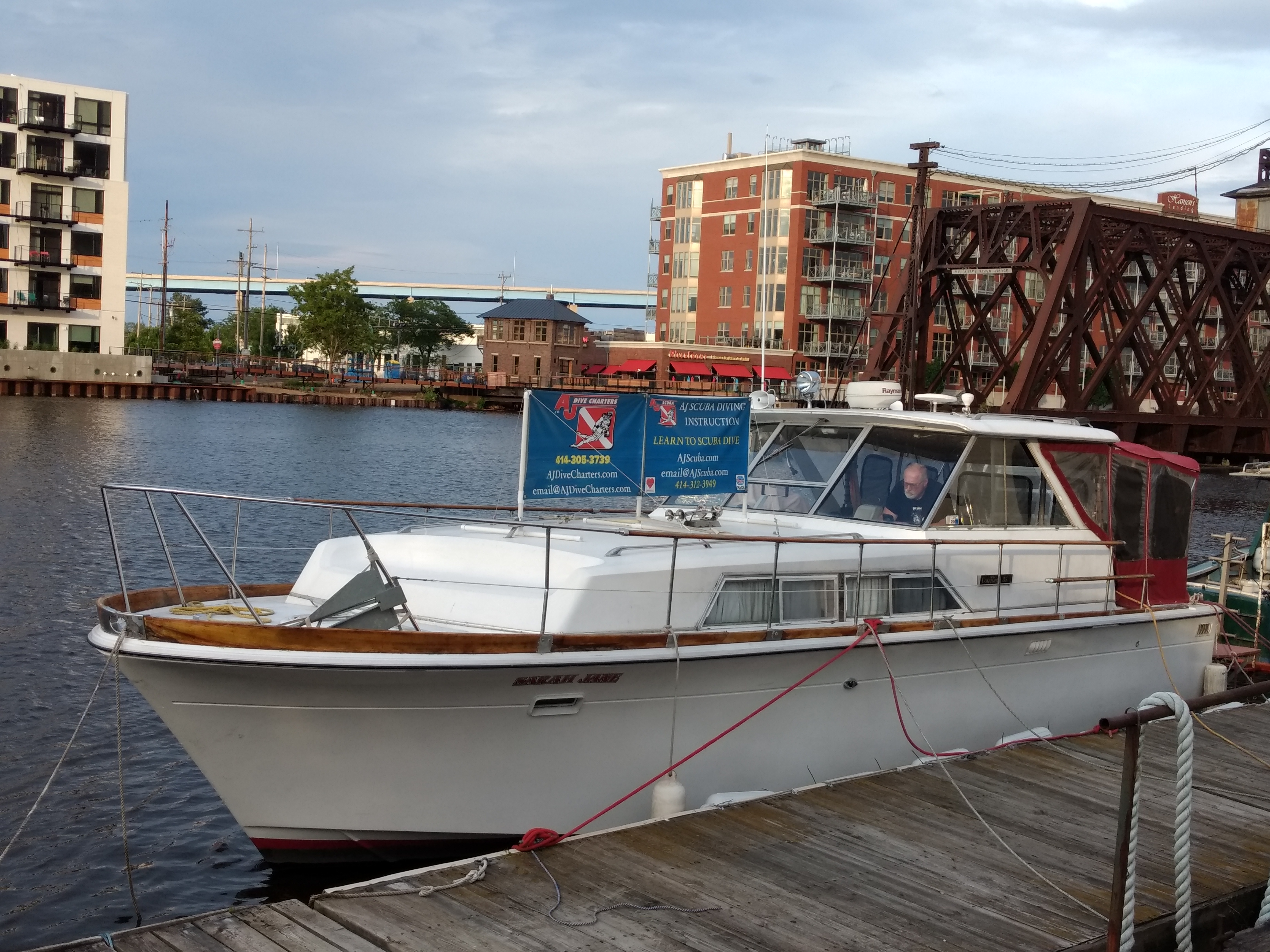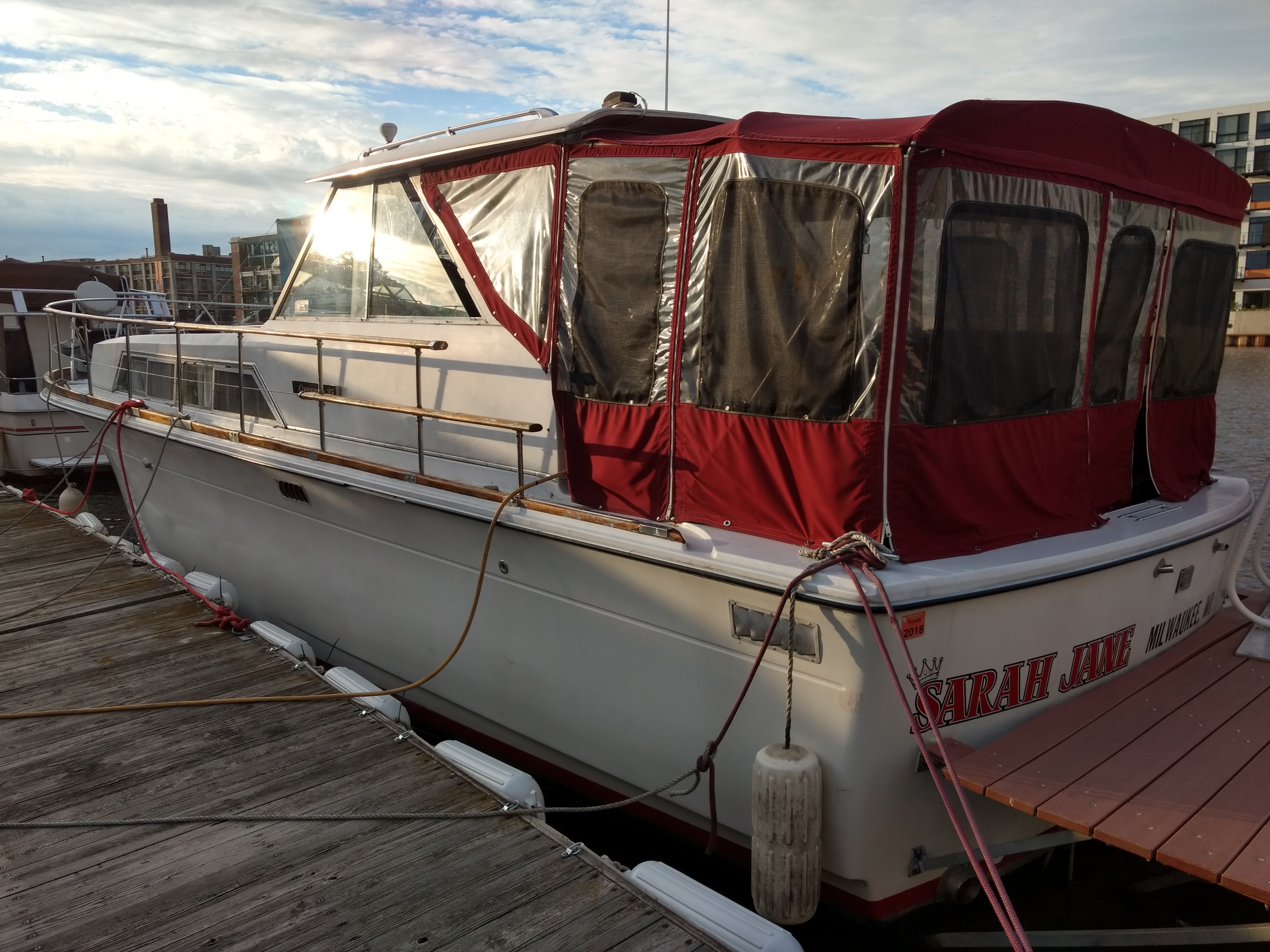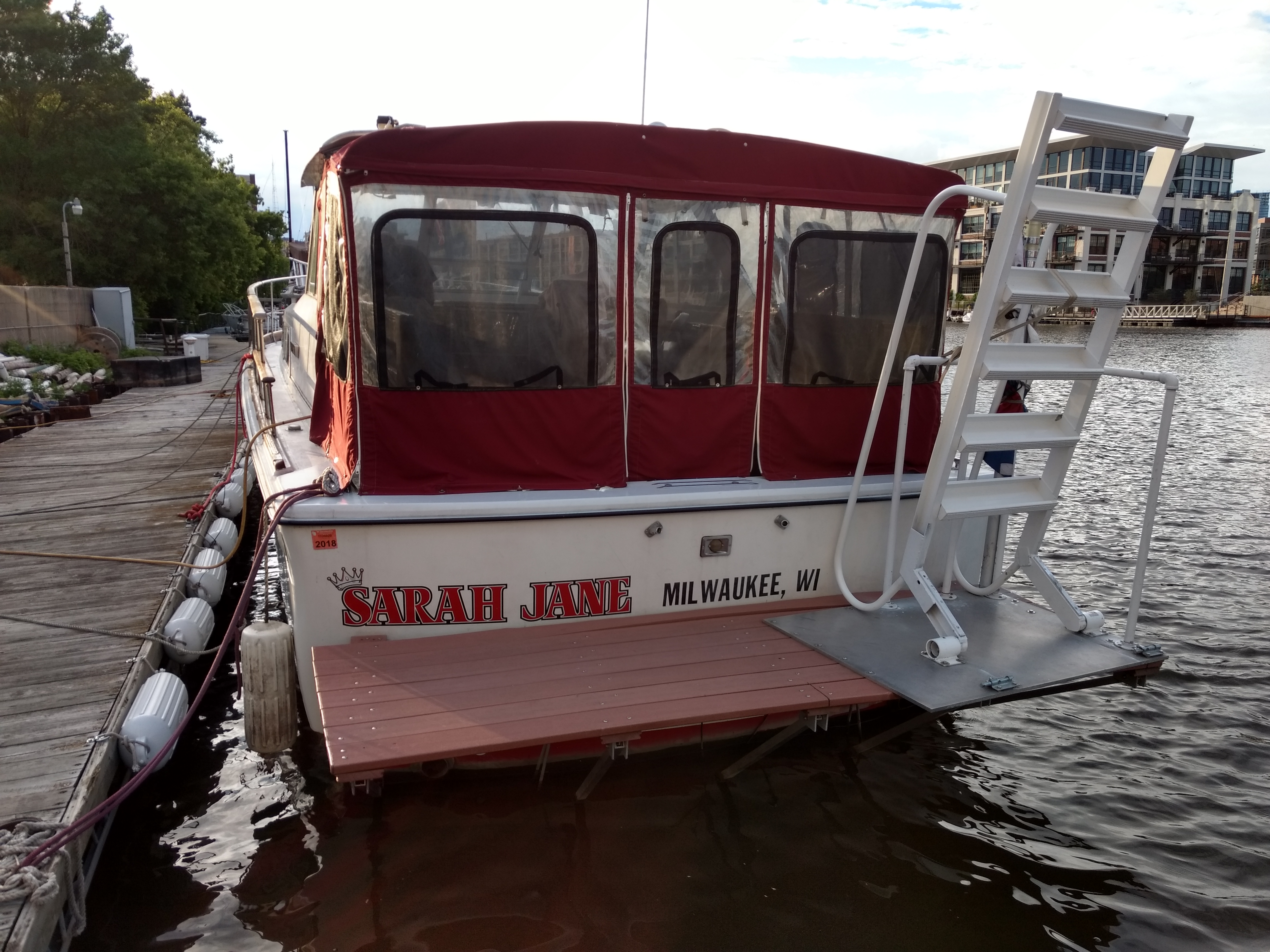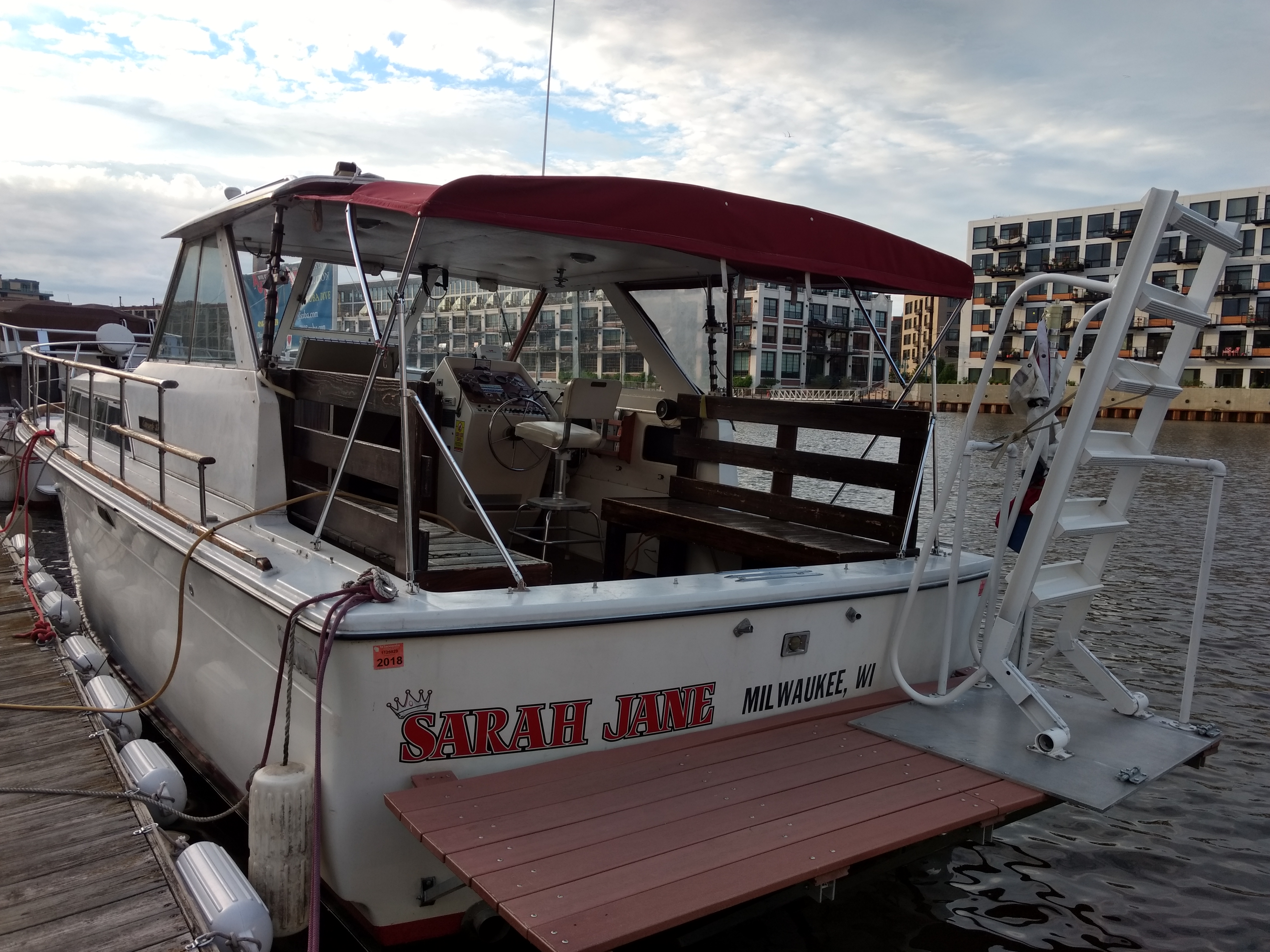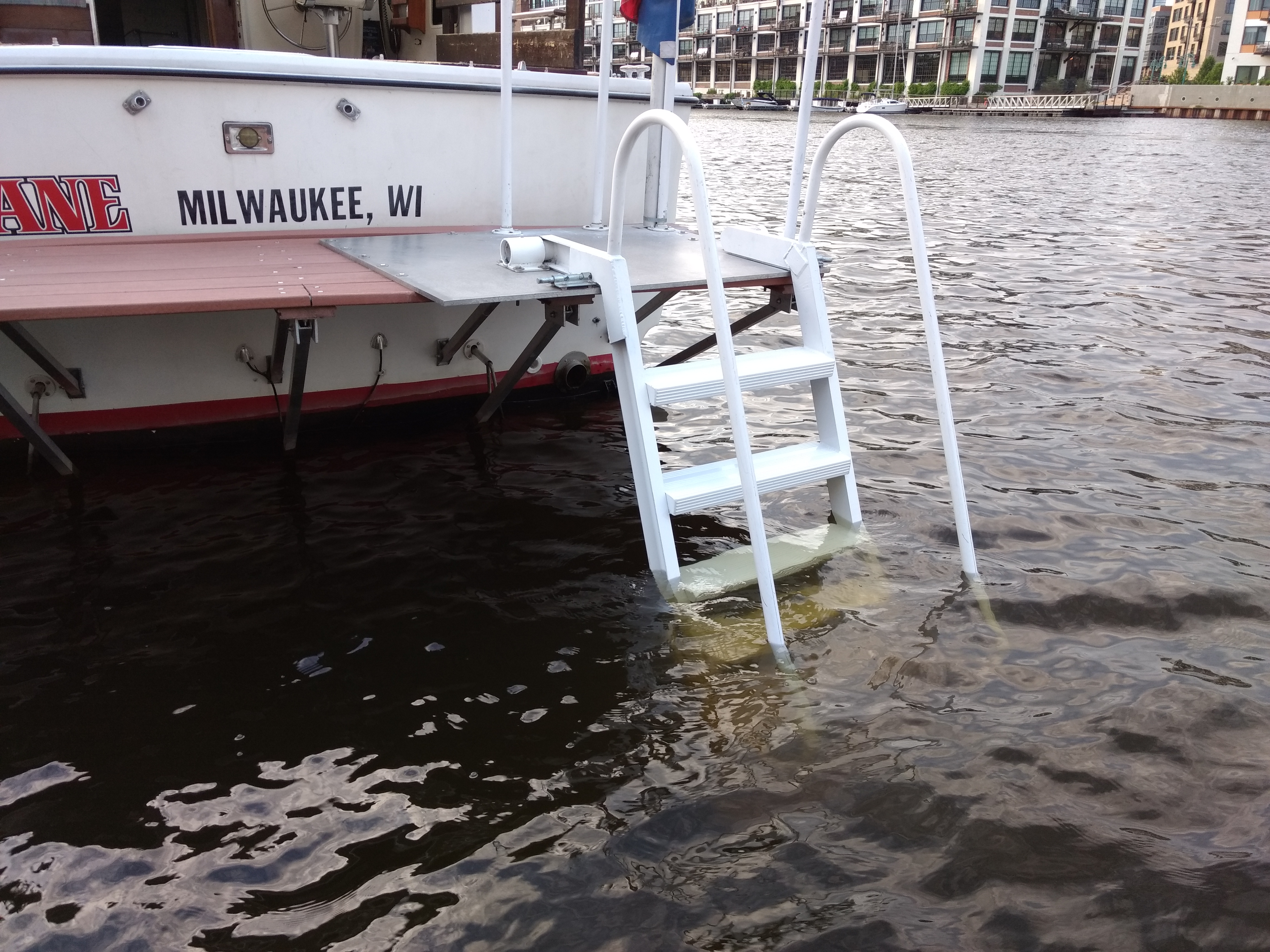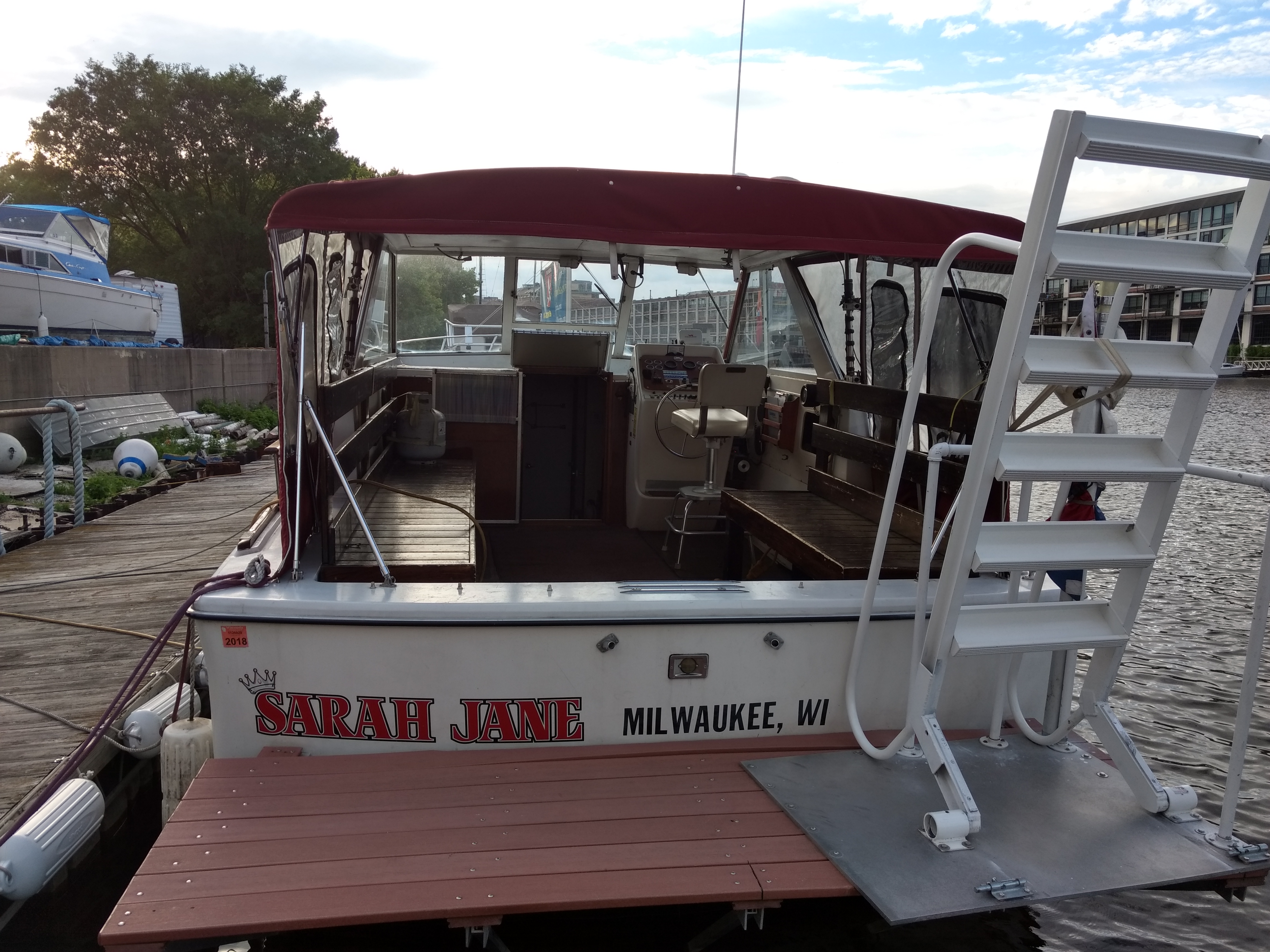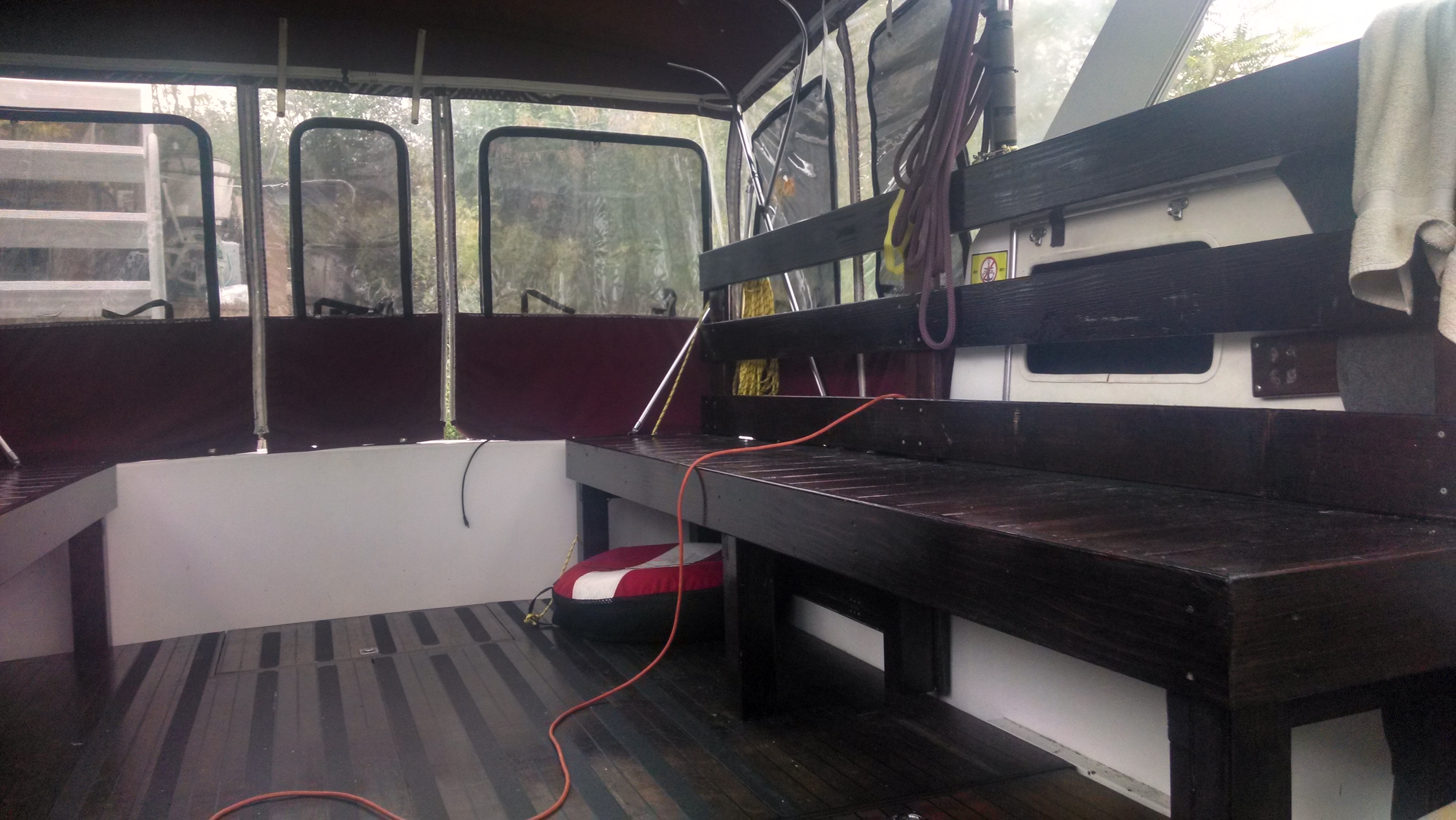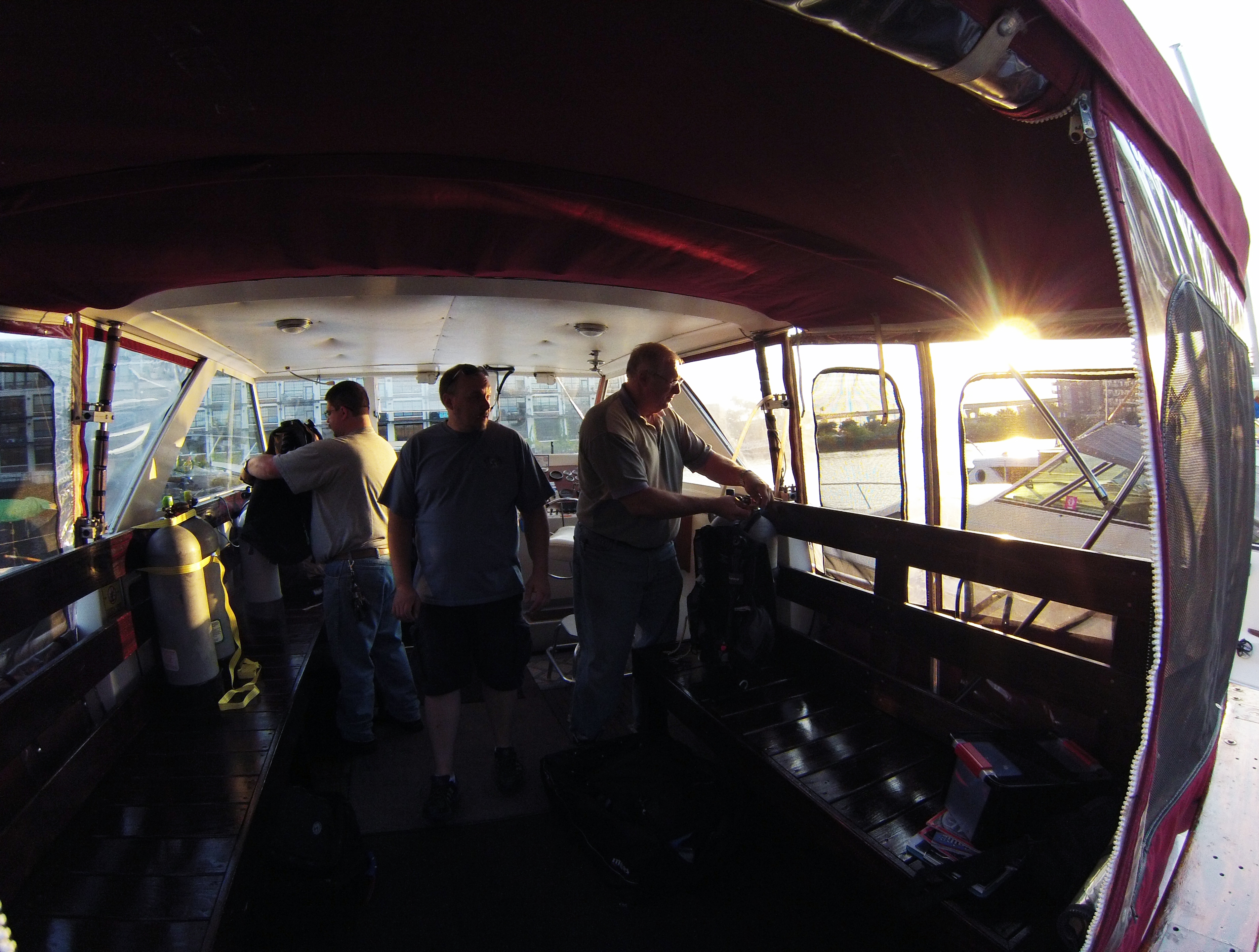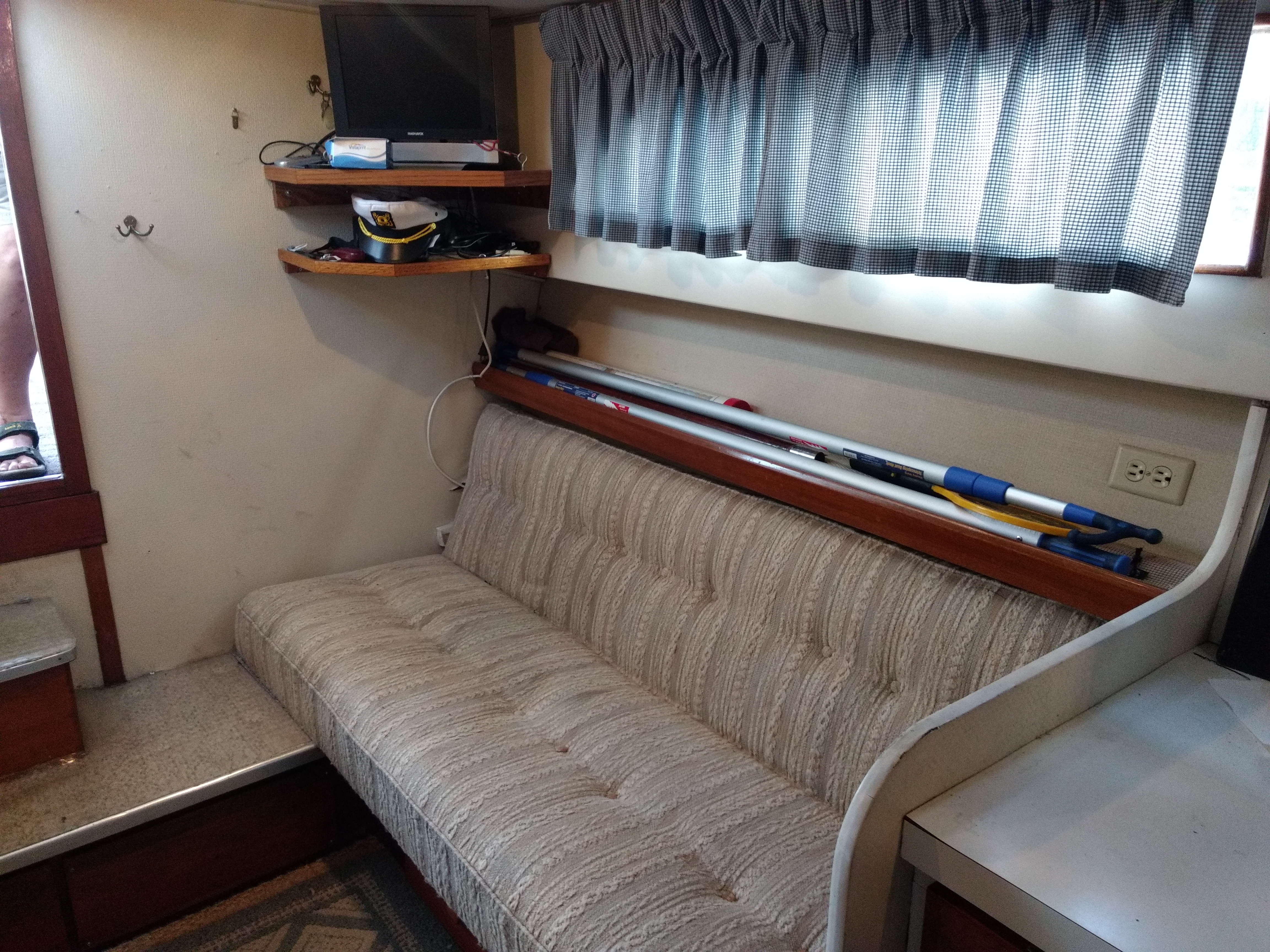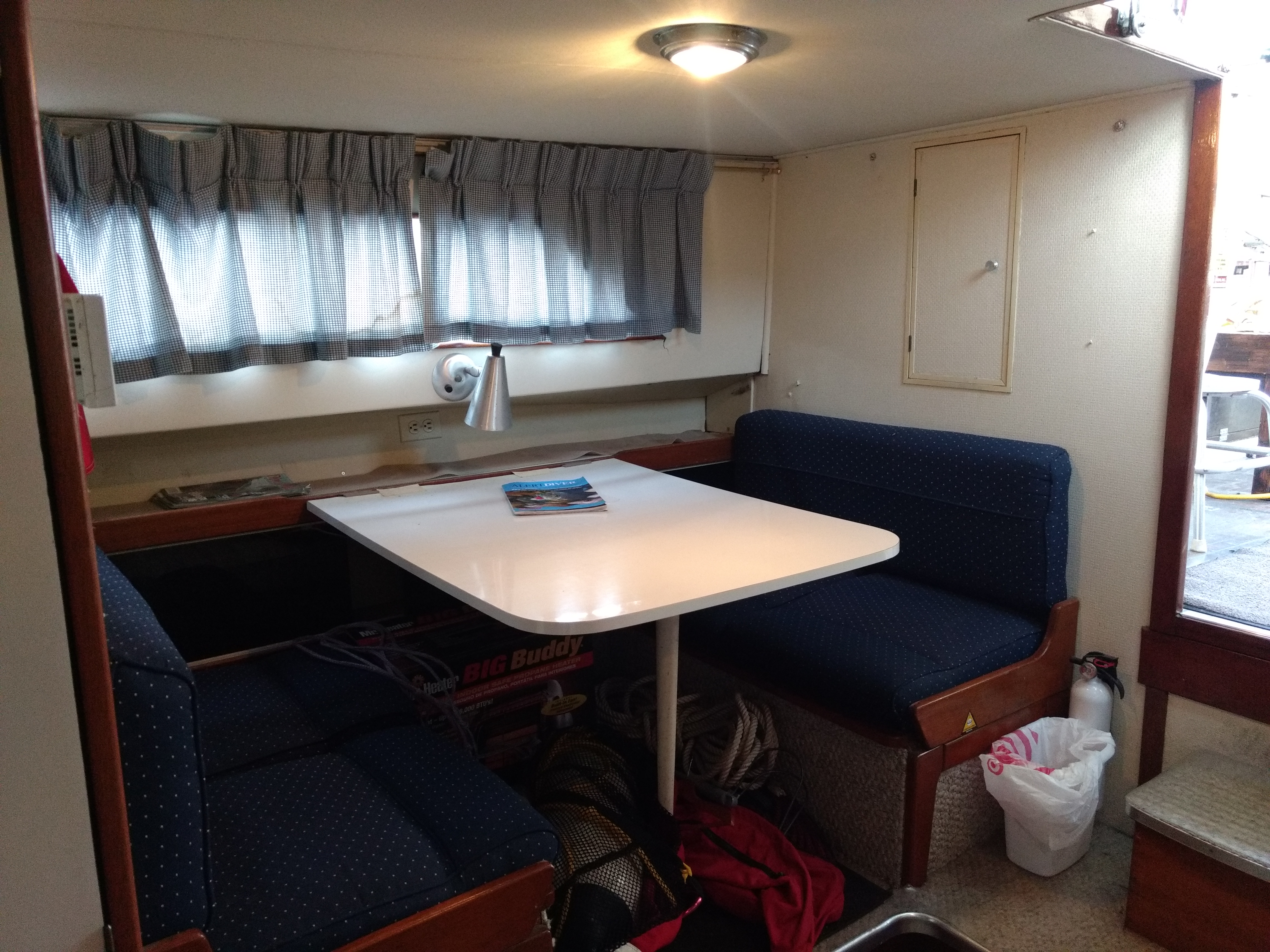 Dive Boat Features
6 Divers Plus Crew
Totally Enclosed Cabin
Plenty of Storage
Private Head
Hot Water Deck Shower
Propane Heater
Large Dive Platform
Large Dive Ladder
First Aid Equipment
Emergency Oxygen
AED
Emergency Deco Air Supply
The Sarah Jane has been built to carry six divers plus two crew divers with plenty of seating and storage for all of your dive equipment. The back deck area is fully enclosed with a canvas top that is fully removable. On hot days we can remove the sides to keep you cool while still keeping you in the shade. On cold days we can keep her zipped up and heat the cabin up with a propane heater, which means you can diver earlier and later in the year and still stay warm.  Sarah Jane is also equipped with a private head with shower, Galley and dining area, lounge and sleeping quarters.  
We built a custom dive platform that is four feet deep with lots of room for several divers to enter and exit the water at the same time. We have a large stepped dive ladder that extends six feet into the water and makes getting out of the water in rough seas a breeze. We have a hot water deck shower with unlimited hot water. We will fill up your wetsuit with hot water before and after your dives which makes diving in Lake Michigan a lot more enjoyable early and late in the dive season.
We are scuba divers ourselves and diver safety is our first priority. Whenever possible we will attach the mooring line on the stern of our boat so you can avoid long surface swims to the mooring line. If seas are not favorable to a stern tie off we anchor off of the front of our boat. We will attach an additional line to the mooring line that runs down the side of our boat and a tag line off our stern. Having this line allows you to pull yourself to nd from the mooring line  while using less energy and without worry of getting carried off buy surface currents. We have an emergency decompression safety top line hanging on the stern at 15 feet with three regulators, just encase you need extra air when doing your safety stop. We also carry all required USCG safety equipment, emergency oxygen, AED and first aid equipment.
We provide drinking water and light snacks during your surface intervals, but feel free to bring your own snacks too!
Ready To Go Diving?
Check Out Our Charter Schedule