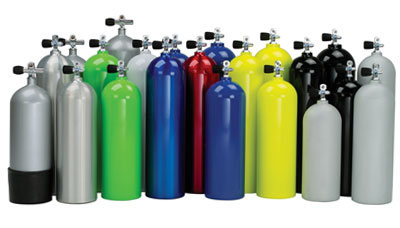 Diving Condition You Should Expect
Diving in Lake Michigan can be challenging and unpredictable at times.  Water temperature at depth can range from 35-70 degrees even at the peak of summer.  You can experience 70 degree water temperature at 90ft one weekend and 39 degrees the next weekend depending on the wind direction, wave action and currents in the lake. Currents??? Yes, there are currents in Lake Michigan. Usually surface currents are very mild, even unnoticeable at times. Sometimes after heavy wave conditions calm down the currents can be very strong. If you do experience a current at the surface, they usually diminish within the first 10 - 15 feet. On rare occasions currents can be experienced at depth.  Water visibility will generally range from 30 - 100ft depending on factors like which shipwreck you are diving on, water temperature at depth, wave conditions, surface currents, and recent rainfall. The average visibility has been around 30 - 50ft.  Air temperatures are usually colder than you will experience on shore. In the earlier parts of summer when the water surface temperatures are still cold, you may experience heavy fog.
Preparing For Your Dive Trip
We DO NOT provide any scuba diving equipment in the price of the charters. You are responsible for bringing all of your equipment with you on the dive charter, including tanks and weights.  We do have rental equipment available upon request for an additional fee. Due to the challenging nature and different diving aspects of diving in Lake Michigan, it is best if divers own, maintain and are comfortable diving with all of their own equipment. Owning your own equipment makes the experience more enjoyable and safer. Please let us know when you schedule your charter if you need to rent or purchase any equipment.
Recommended Items To Bring
Exposure Protection

7mm Wetsuit or

Drysuit

5-7mm Full Wetsuit hood or hooded vest - recommended

Full length wetsuit boots

5mm wetsuit gloves

Scuba Equipment

Buoyancy Compensator

Rebreather

Scuba Tanks

Weights

Mask

Snorkel

Fins

Regulators

Dive Computer

Safety Sausage

Dive Light

Dive Knife

Underwater Camera

Other Items

Swimsuit

Towel

Sunscreen

Baseball Hat

Knit Hat

Light or Fleece Jacket 

Snacks / Drinks

Motion Sickness Medication

Certification Card
Rental Equipment Prices
Full Set $70
Includes 7mm Wetsuit, Hood, BCD, 2 - 80 cuft aluminum tanks, Weight, Regulators
Individual Prices
7mm Wetsuit and Hood $15

BCD $ 20

Regulators $15

Weights $15

Tank 80 cuft Aluminum $10 / Tank
On site Airfills
Equipment For Purchase - Please let us know ahead of time if you need something.
ScubaMax GV-722
5mm Supratex Gloves

Reinforced Palms

Velco Wrist Straps

XS - XXL

$27.00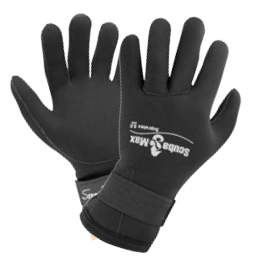 ScubaMax GV-725TX
5mm Superstrech Gloves

Thermospan Lining

Textured Palm

XS - XL

$40.00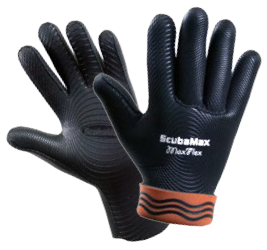 IST S680
5mm Neoprene Gloves

Kevlar Palms and Finger Tips

Velcro Wrist Straps

S-XXL

$45.00
H2Odyssey GK5 Eskimo Gloves
6.5mm neoprene gloves

Three Finger Mitt

Velcro Wrist Strap

S - XXL

$49.00